Magnum T.A. (Alive)
Terry Wayne Allen [1959 - Present]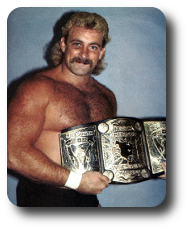 ---
"America's Heart Throb"
---
---
One of the most popular professional wrestlers during the 1980s, Terry Allen started wrestling in the mid-1970s for Championship Wrestling from Florida and later moved to Mid-South Wrestling. In the early 1980s, Allen adopted the persona of Magnum T.A., "America's Heart Throb," based on his resemblance to Tom Selleck's popular TV character, Magnum, P.I. In 1984, Magnum T.A. defeated Mr. Wrestling II to capture the Mid-South North American Heavyweight Championship and also teamed up with Dusty Rhodes to form "America's Team." Magnum T.A. engaged in many feuds with the likes of Wahoo McDaniel, Ole Anderson, Ric Flair, Tully Blanchard, Nikita Koloff and "Gorgeous" Jimmy Garvin, among others.
Tragically, Magnum T.A.'s professional wrestling career was cut short on October 14, 1986, when he lost control of his Porsche and crashed it into a telephone pole. The accident left him partially paralyzed. Magnum later became a commentator and manager for both Koloff and Rhodes. In 1998, Magnum managed Barry Windham and Blanchard to a memorable victory over The Border Patrol for the NWA World Tag Team Championship.
---
---
© 2017 Shelf-Life Productions LLC