Buddy Rogers (Dead)
Herman C. Rohde, Jr. [1921 - 1992]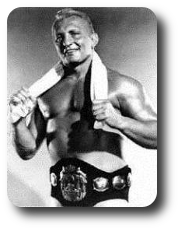 ---
"Nature Boy"
---
---
Discovered by a local promoter while a New Jersey policeman, Buddy Rogers started his wrestling career in 1939. Leaving the local promotion for Texas, he adopted the name "Buddy Rogers", became a four-time Texas Heavyweight champion and developed a rivalry with wrestling great Lou Thesz. Dying his hair blond and being given the nickname "Nature Boy" by promoter Jack Pfeffer, Rogers quickly caught the attention of viewers of the new medium of television.
Joining Sam Muchnick's promotion in St. Louis, Rogers secured the spot as the top draw against his rival Lou Thesz. His rising success was rewarded in 1961 when he beat Pat O'Connor for the NWA World Heavyweight championship. Rising dissent from some promotions that Rogers preferred the Northeast led to his dropping the title in 1963 to Lou Thesz. Many northeast promoters soon pulled out of the NWA and formed the WWWF, making Buddy Rogers their first World Champion. His reign was short; he lost the title to Bruno Sammartino a month later. He claimed a heart attack reduced his endurance and retired by the end of the year.
Rogers would return to wrestling in 1978 as a competitor in Florida and then as a manager in Jim Crockett Promotions. He managed many future stars such as Ken Patera, Jimmy Snuka, Gene Anderson and Big John Studd. He began a hot feud with "The Nature Boy" Ric Flair, passing the torch in the process.
A broken hip while in the WWF led to Rogers' official retirement. A broken arm and three strokes led to his death in 1992. He was posthumously inducted into the WWF Hall of Fame in 1994. He is credited with inventing the Figure-Four Leglock.
---
---
© 2013 Shelf-Life Productions LLC