Bruno Sammartino (Alive)
Bruno Leopoldo Francesco Sammartino [1935 - Present]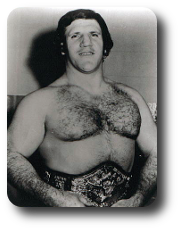 ---
"The Living Legend"
---
---
Born in Italy on October 6, 1935, Bruno Sammartino survived four siblings during his childhood and the ravages of World War II. He emigrated to the United States in 1951 as a frail, sickly boy who was often the target of bullies. Determined to build himself physically, Sammartino devoted himself to weightlifting, nearly getting a spot on the 1956 U.S. Olympic team.
He became a professional wrestler in 1959 working in the Pittsburgh territory, but would soon find himself headlining matches at Madison Square Garden with his tag partner Antonino Rocca. After a rocky start that briefly saw Sammartino out of wrestling (a suspect suspension for missing a match), his popularity took off. He would win his first title, the NWA International Tag Team Championship, with partner Whipper Billy Watson. Bruno made headlines as the only person to ever bodyslam Haystacks Calhoun in a wrestling match.
Vince McMahon Sr. brought Sammartino back to the WWWF to increase his promotion's drawing power. Bruno captured the WWWF World Championship title from "Nature Boy" Buddy Rogers on May 17, 1963 and started the longest continuous world title reign in men's wrestling history (seven years, eight months, and one day). "The Living Legend" would consistently sell out Madison Square Garden with battles against foes such as Killer Kowalski, Fred Blassie, Giant Baba, Gorilla Monsoon, Gene Kiniski, Bill Watts, Waldo Von Erich, Johnny Valentine, The Sheik, and George "The Animal" Steele. His title reign ended in 1971 before a stunned crowd to Ivan Koloff.
Sammartino defeated Stan Stasiak in 1973 to start his second WWWF title reign. This title reign was highlighted with matches against opponents such as Bruiser Brody, Ken Patera, John Tolos, Nikolai Volkoff, Bugsy McGraw, Fred Blassie, Ernie Ladd, Baron Von Raschke, Ivan Koloff, Don Leo Jonathan, and Angelo Mosca. "Superstar" Billy Graham captured the title in 1977 as injuries forced Sammartino to reduce his wrestling schedule.
Sammartino was a participant in the Match of the Year for 1972 and 1976. One of his most successful feuds was against Larry Zbyszko, his former student. Zbyszko turned violently on his teacher in an exhibition match on January 22, 1980. Vowing revenge, Bruno would lock up with Zbyszko for a series of record setting draws that would reach their peak August 9, 1980 as over 36,000 fans flocked to Shea Stadium to see Sammartino defeat Zbyszko in a steel cage.
Sammartino retired from wrestling in 1987. He has publically critized the direction that Vince McMahon Jr had taken the sport, refusing entry to the WWE Hall of Fame.
---
---
© 2013 Shelf-Life Productions LLC