Ivan Putski (Alive)
Joseph Bednarski [1941 - Present]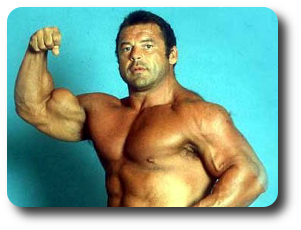 ---
"Polish Power"
---
A native of Poland, Ivan Putski emigrated to Texas with his family when he was a young boy. Texas would prove fertile ground as he became a professional wrestler. He would go on to win the NWA American Tag Team Championship (1970) and the NWA Texas Tag Team Championship (1973) with partner Jose Lothario.
"Polish Power" entered the WWWF in 1976 and battled men like "Superstar" Billy Graham, Ivan Koloff, Bruiser Brody and Jesse "The Body" Ventura. He and tag partner Tito Santana captured the WWF World Tag Team Championship from Jimmy and Jerry Valiant in 1979, the same year they earned the PWI Tag Team of the Year. The 1980s marked the decline of Ivan's career. He was inducted into the WWF Hall of Fame (1995).
An avid bodybuilder who competed in the 1978 World's Strongest Man competition, Ivan has retired from wrestling and currently works as a security guard at a local high school.
---
---
© 2017 Shelf-Life Productions LLC