Taka Michinoku (Alive)
[1973 - Present]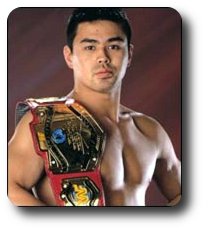 ---
---
Review Courtesy of Chris Woolfrey
Professional wrestling has plenty of thrills and spills but not everybody gets to watch all of them; since the WWF/WWE has always reserved its most brilliant, dramatic and ridiculous choreography for its pay-per-view devotees, plenty of loyal but cash-poor fans get excited by a different wrestling remit entirely. And so, while privileged fans got the drama of the late 90s cash-rich franchise, less lucky fanatics got thrown back to campy bouts and more-farcical-than-usual feuds -- with equally campy and farcical wrestlers.
Enter Taka and Funaki, two members of the famously bad Kai En Tai. A stable of Japanese wrestlers of indistinguishable ring personalities headed by manager Yamaguchi-San, Kai En Tai represented the best (the subtle pastiche of kung fu film lip-synced dialogue) and worst (tacitly racist kung fu film lip-synced dialogue) of what non-pay-per-viewers were offered.
Despite the limitations of their appeal, Kai En Tai, in all their mediocre glory, are best remembered for one moment; after Val Venis had an affair with Yamaguchi-San's wife, he exclaimed ""I choppy choppy your pee pee!", which really explains it all. Still, once they got Kane into the ring for WWF Sunday Night Raw, which is an achievement. It's typical of the division of quality, though, that after so much anticipation for people who hadn't got to watch a wrestler as famous as Kane on TV before, that he hammered unlucky Taka and Funaki at the same time, in a fight that lasted about 45 seconds.
A short-lived and much-maligned stable, for sure. In fact, in many ways, through their lack of wrestling prowess, and the 2D portrayal of their relatively unpopular stable as mildly stupid foreigners – just like William Regal being English and so supporting the monarchy and talking with a posh accent – Kai En Tai explains the phenomenon of the WWE better than anything else can.
---
---
© 2013 Shelf-Life Productions LLC